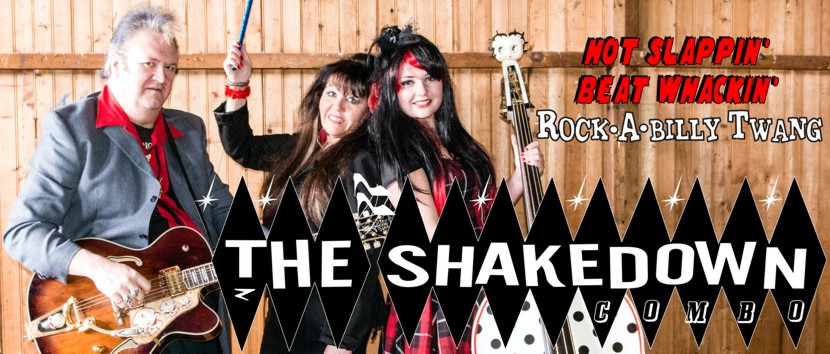 The Shakedown Combo's new single on 7" vinyl "Shakin' Down" b/w "Lonesome Train" is available for purchase! Order from our store

The Shakedown Combo's latest album"Shakin' Down" is available!

Download from iTunes or purchase CD directly from our store

Debut CD "Burnt Out Hot Rod Car" Also Available!

or
Get The Shakedown!
"Put Your Cat Clothes On and Step Out Rockin' with Canada's hottest Rockabilly band - The Shakedown Combo!"
The Shakedown Combo perform with the attitude that Rockabilly can be modern and contemporary, not simply a sound from past decades revived by cover bands whenever retro becomes fashionable. The track-list of their debut album Burnt Out Hot Rod Car (produced by Danny B Harvey) displays that they favour original material over reworking the old classics.
However, they don't dismiss the original rockers, or the 1980s revivalists. Rockabilly artists from both eras play a big part in influencing the sound and style of The Shakedown Combo, giving them a solid bass to move forward from.
Rockabilly fans will love the twanging guitar and slapping double bass that typify the genre, but the catchy upbeat songs and modern production invite wider appeal.
The Shakedown Combo's line-up consists of two girls (Gill on vocals and Kim on upright bass) and one
Guy (Davey Lee on guitar) who together blast out Red Hot Bass Slappin' Beat Whackin' Rockabilly Twang!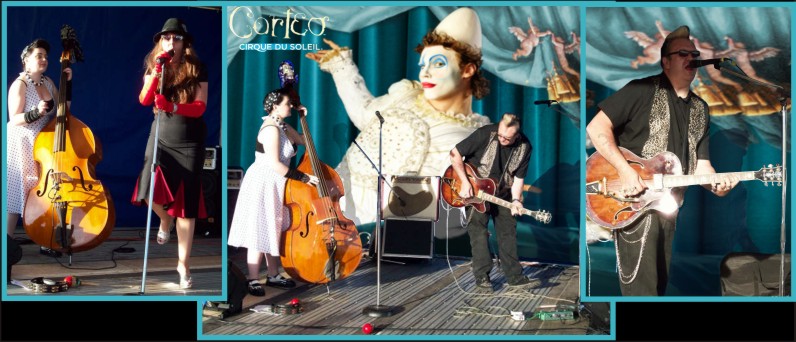 The band held the honor or being the chosen entertainers to play for the Cirque Du Soleil "Corteo" cast and crew prior to their premier performance. Davey said "It's just a great privilege to perform for these artists, they are at the top of their profession and we are humbled to be in their company. Being part of this event was great for us and it was just a fabulous party with great people - Thanks Guys".